It's still February and (while I write this) it's still cold and wintery.  But we did get a little break in the weather and that got us fired up for warmer weather and fun events coming up in Coshocton County!  This year we have some new events and some perennial favorites…so we thought we would share just a few that you should know about!
Here are 5 great upcoming events in Coshocton County…so mark your calendar.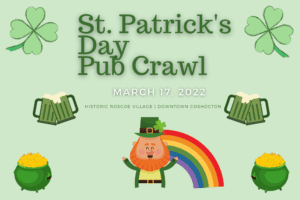 St. Patrick's Day Pub Crawl
Get ready to kick off your festivities in 2022 with a real open house.  Our Town Coshocton & the Roscoe Village Business Association is hosting a St. Patrick's Day Pub Crawl on March 17, 2022!  Get some friends together and get ready to be social.  Participating locations are Huck's Tavern, Warehouse Steak n' Stein, Coshocton Village Inn & Suites, Main Street Station, and Sorrell's on the Square.  It's sure to be a fun night!
And of course, if you are from out of town and plan to hit all of these spots, you might want to book a room to stay.  Remember…safety first!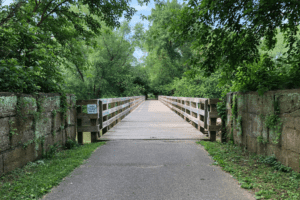 Friends of the Park Half Marathon, 10K, and 5K
While Coshocton County has had some amazing races over the years, we have never had a half-marathon…until now.  The Coshocton Friends of the Parks are happy to present the "Friends of the Parks Half Marathon, 5k & 10k Powered by: Coshocton Regional Medical Center." This race will have a great course that will showcase Coshocton's beautiful Lake Park Complex bike trails as well as some running on the city streets of Coshocton.
Now is a great time to get registered here…and get training!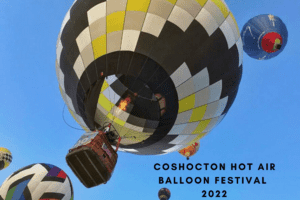 Hot Air Balloon Festival
Didn't we tell you we had perennial favorites?  For 40 years, hot air balloons have been floating over the hills and valleys of Coshocton County. Kiddie rides, food vendors, entertainment, craft booths, children's activities, fireworks, night glow, and hot air balloon launches (weather permitting) are all part of this FREE event thanks to our generous sponsors and "friends". The Coshocton Hot Air Balloon Festival is organized by a committee of volunteers.
Visit www.coshoctonhotairballoonfestival.com for the weekend's itinerary and Hot Air Balloon Festival Facebook Page for current announcements!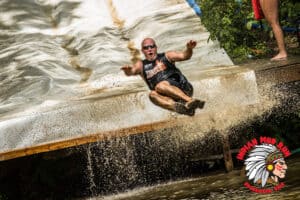 Indian Mud Run
The Indian Mud run is the toughest race you will ever love.  There are two distances with a 10K competitive course with 72 obstacles, and the non-competitive 5K course that will bypass the extreme obstacles but still give racers an incredible experience.  This is an event you will be talking about for years.  For more information, visit www.indianmudrun.com. 

Coshocton Sunflower Festival (August 12-14)
Experience the Joy of Living Sunshine! Coshocton Sunflower Festival features over 3 acres and 30 varieties of sunflowers and has quickly become the talk of Coshocton County.  Visitors from all over come together with locals to experience this awesome event featuring nature, music, great food and so much more.  If you have never experienced the Sunflower Festival…do yourself a favor and check it out this year.
Please visit www.CoshoctonSunflowerFestival.com for ticketing and information regarding vendors, flower cutting, live music, activities, food trucks, and more!
So as you can see, we have plenty of amazing events coming up in Coshocton County for 2022.  And these are just 5 of them!  If you want to have a complete list of events head to VisitCoshocton.com to learn more.
And of course, if you want to make a weekend out of it, we would love to have you at the Renaissance on Main.  Check out some places to stay here!