Coshocton County is the perfect One-TankTrip for most locations in Ohio.  There is so much to see and do.  The problem really is, how can you fit it all in?  So we have created a basic agenda for the perfect long weekend in Coshocton County for couples.
How do you create a weekend that is fun for both partners?  While we understand that every couple is different, we want to help!  We have created a simple agenda for a wonderful couple's getaway that both people will enjoy.  Oh…and this is designed for two couples in order to double the fun.
Thursday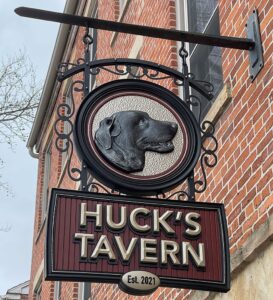 While this might be a one-tank trip, we want to make this as relaxing as possible.  Your room will be ready to go.  Obviously, we would love to have you stay with us.  You can select your room here.  Once you are all settled in, we want to start you off with a favorite local stop.  Huck's Tavern is located in Roscoe Village and Thursday is Burger Night!  The burgers are truly amazing and the drink selection is perfect to start your fun and relaxing weekend.
Friday
We hope you got plenty of rest last night because we have a great day planned!   So let's start off Friday morning with a short float down the river.  Coshocton is located here because of the connection of the Walhonding and Tuscarawas Rivers coming together to form the Muskingum.  Bring your kayaks for this short adventure.  You can drop in at Skip's Landing, and you can have a beautiful short float from one edge of Coshocton to the other.  It's a leisurely journey that will only take about 2 hours.  Once you are done on the river, it's time to split up.
The guys are heading to the golf course.  River Greens Golf Course was named one of North America's Top 201 public golf courses, so you know it's going to be a great day on the links.
While the guys are "hitting them straight," you will have a great day of shopping.  You will begin your day right here on Main Street!  There are so many places to stop.  From jewelry at Dean's Jewelry, to amazing clothing at Bexley Anns, to a full experience at Rust Decor…there is plenty to see and do.  And you will want to stop at Scoop's for ice cream before you head to Roscoe Village.  This amazing restored Canal Town is filled with unique shopping, tours, and activities.  You will have no problem staying busy until the guys can meet you for Happy Hour at the Warehouse.  With a menu full of different options, everyone will have something to enjoy.  Oh…and we recommend enjoying your drinks outside on their wonderful patio.
Now it might be time to head back to the room to freshen up before an amazing dinner at The Thompson 99.  The Thompson 99 has quickly become a local favorite and has some amazing fine dining and (coming soon) an outside patio to enjoy the outside as you finish a full day.
Saturday
You may feel like you have had enough fun…but it's only just begun.  Now it's time to check out the Three Rivers Wine Trail!  While it will be tough for you to see the entire trail in just one afternoon, you can certainly get off to a great start.  Besides, this will allow you more to do for your next trip!  On today's trip, you will hit 4 of the stops along the trail starting at the Yellow Butterfly Winery.  Yellow Butterfly features an amazing restored yellow barn and some fun wines as well.  Sit on the deck, take in the views, and taste some wine, before heading down the winding country road to Rainbow Hills Winery.  Rainbow Hills Winery is the very first winery in Coshocton County and features wonderful views and addicting wines as well!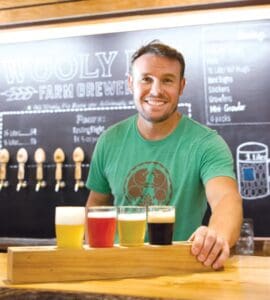 Now that you have had some amazing views and some delectable wines, it's time to cleanse your palate at Wooly Pig Farm Brewery!  Featuring some amazing lager-style beers, the Wooly Pig Farm Brewery has become THE place to stop!  Oh…and did we mention they have real Wooly Pigs?  Of course, they do!  The final winery stop today will be just down the road (literally 250 yards) at Ravens Glenn Winery.  This award-winning winery is beautifully situated along the Tuscarawas River.  It's the perfect spot to unwind after a full day.
Raven's Glenn Winery also features some amazing food.  So you can end your evening with dinner there…or head back to Huck's for a nightcap before heading back to your room.
Sunday
After that full day, we think Sunday should be a day to unwind!  Sleep in a bit before heading to Bob Evans (or Dunkin) to get some coffee and some breakfast.  Now that you are fully caffeinated, this might be a great time to revisit Roscoe Village and some of the shops on Main Street before you head home.  Oh…and if you want to have one more cold beer, or get some bottles for home, Wooly Pig has hours on Sunday as well.
There you have it!  It's a full agenda filled with fun for couples.  If you are ready to come and Visit Coshocton, please feel free to book your stay here now.  Oh…and if you like the idea, but want to make some adjustments to the agenda, feel free!  We can't wait to see you soon!