We are incredibly excited to announce that Hasseman Properties has purchased the Roscoe Motor Inn.
The Roscoe Motor Inn is a 15 room two-story motel located at the edge of Historic Roscoe Village in Coshocton, Ohio  Each of the rooms are extra clean, spacious, and comfortable with two queen-size beds, refrigerators, microwave ovens, coffeemakers, cable TV, and free WiFi internet access for guests.
"Del and Mary Smith have done a great job of welcoming visitors to Coshocton County with clean, comfortable rooms," said Amy Hasseman.  "We are incredibly excited to carry on that tradition from them."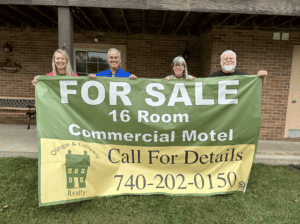 The Roscoe Motor Inn will now double the number of rooms that Hasseman Properties manages for short and mid-term visitors to Coshocton County.  The other property, the Renaissance on Main, is located in the heart of downtown Coshocton on Main Street.
Plans for the new facility include updates to the decoration and interior, enhancements to the outside seating space, and a change to how reservations are made.  All rooms will be available for viewing at the website ChooseCoshocton.com and on AirBnb.com (coming soon).
If you want to stay up on the changes and upgrades being made, please follow us on Facebook here:  https://www.facebook.com/ChooseCoshocton.  Or you can sign up for email updates here.