As we talked about recently, we continue to add more rooms at the Renaissance On Main…and we are really excited about it.  At this point, we have 9 rooms listed here on our site, with a few more coming soon.  We have studio apartments, 1 bedroom apartments and we even have 2 2 bedroom apartments as well.  And since this building was originally built as a hotel on Main Street in Coshocton, we really love that we are bringing back that feel to our downtown.
The Rooms Have Themes
One thing that has been fun for us is to decorate several of the rooms with different themes.  This not only gives each room its own distinct feel, but it makes them fun to decorate as well!  Here are just a few of the rooms and their themes.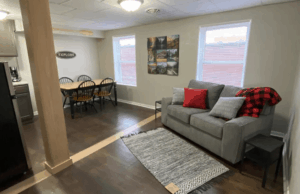 The Outdoor Adventure Room
One thing that Coshocton County is known for is our outdoor adventure.  Whether it's our hiking trails, our beautiful rivers, or our vast hunting land, adventure is in our DNA.  If you are an adventurer by nature, you will love this room.

The Beach Room
If you are looking for peace and serenity, then we have a beach scene in Coshocton just for you.  This one-bedroom apartment is one of our favorites.  It's a little getaway right here in Ohio.  Check out this room here.

The Jimmy Buffet Room
It's always 5 o'clock in this room!  Parrotheads will love to have a Land Shark (or a margarita) while kicking back with a few "songs you know by heart."  While we are not overlooking the ocean, we can be your "One Particular Harbor" as you look down Main Street in Coshocton.  Check out this room here.

The Ohio State Room
One of our first themed rooms was designed for the Buckeye fans that are all over the country (and the world).  When you visit Coshocton County, we want you to feel right at home!  From the moment you walk in the room, you will see Ohio State everywhere.  You can learn more or book your stay here.
The Coshocton Room
Of course in this tribute to historic Coshocton County, we have a room that has Coshocton as its theme.  We have some wonderful aerial photos from Kyle Dobbins printed and put on the walls.  And we even have locally designed coffee cups…and more.  This 2 bedroom is a great option if you are coming back to the area…or want to experience our community for the first time.  Learn more and book here.
As you can see, we have had some fun with this.  And we have more coming!  Be on the lookout soon for our new music-themed 2 bedroom apartment, and our 1 bedroom tribute to the Three Rivers Wine Trail!  They are going to be fun!  If you want to see all the rooms we have to offer in one place, click here or on places to stay!