The holidays are a time for reconnecting, spending time with loved ones, and coming to Coshocton County!  At least, that's how we see it!  There is a ton going on this holiday season (here are just a few).  But we thought it might be helpful to provide you with an agenda of fun when you visit Coshocton County this holiday season.
A Holiday Weekend To Remember In Coshocton County
The first step, book your room in advance!  We are surprised by how many people roll into the community without booking a place to stay.  While Coshocton County is still a small town, a lot is going on.  So don't get caught without a great place to sleep.  Click here to find a clean comfortable room.
Friday Evening
Assuming you had to work (at least part of the day) on Friday, we will assume you are rolling into Coshocton County after 3 pm.  Once you have checked into your room, we recommend you start your weekend with an amazing dinner.  While there are plenty of amazing, locally-owned restaurants (you can find a list here), this time you will begin your weekend at Thompson 99 on Main Street.  Thompson 99 is a lovely fine dining experience that will leave you full.  We recommend the Prime Rib…but there is plenty to choose from!
After dinner, you will have plenty of time to drive around downtown to experience the small-town charm and enjoy the holiday lights.
Saturday
You can take your time waking up on Saturday morning and then head to grab breakfast.  You will want plenty of fuel for your day as you take in everything Coshocton County has to offer.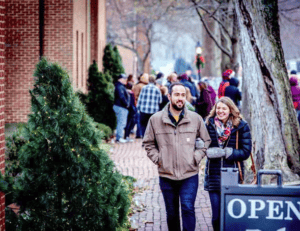 First, it's time to do some shopping around Downtown Coshocton.  We recommend you start at Rust Decor.  This amazing store features 49 local vendors, allows you to "pop in and paint" and features some amazing coffee as well.  It's the perfect way to start your day.  And while you are there, you have plenty of time to check out the Antique Mall and Bexley Ann's shop…and that is just the 300 block!
For lunch, how about a short road trip to Raven's Glenn Winery?  Raven's Glenn is Ohio's Crown Jewel of Wineries and is the perfect place to reward yourself for a hard day of shopping.  While you are there enjoying a fantastic lunch, feel free to sample the wines and grab a bottle (or two) to take home with you!
After lunch, it's time to head to Roscoe Village!  This quaint little restored canal town features restaurants and locally-owned shops worth spending some time in.  Not only can you get some amazing gifts at Canal Cargo and Lynnie Lou's, but you can also get something to take home for your pet at Good Boy Bakery.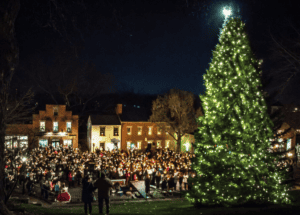 Now Let's Have a Candlelighting
If you are coming on December 2nd or December 9th (and you should), then after the shopping it's time to get ready for the annual Candlelighting Ceremony in Roscoe Village.  Each year, this is a wonderful event that helps people from all over the country kick off the holiday season.  Bundle up…it's outside!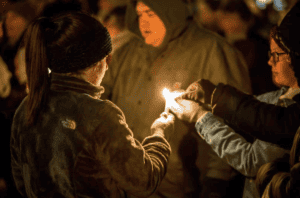 After the ceremony, you can walk just a few steps to have dinner at the Warehouse.  The Warehouse is a Roscoe Village tradition and is sure to be a great way to cap off a full day.
But if you still haven't had enough fun, no problem.  After dinner, you can walk across the street to Huck's Tavern for a nightcap.
Sunday
After that full Saturday, you will likely want to sleep in.  We don't blame you!  But Sunday is a great day to head back to the shops and grab some gifts for the road.  We recommend the Coshocton Supply Company in Roscoe.  Why?  Because they have some amazing Coshocton County merch that you can get to remember the trip!
We hope this sounds amazing…because we can't wait to see you in Coshocton County.  You can book your trip by clicking here.
Oh…and if you want our report on the 12 Places you NEED to see in Coshocton County…you can get that here.